20 Apr 2017
Wedding Photography Trends to Try for Fun-Loving Couples
No matter how huge the expectation is or how much is required to pull off a decent wedding, the fun part should never be taken out of the picture. The fun, candid moments are the focal points of successful wedding photography. If you want to look good in the pictures that will be scrutinized long after the event is through, you will capitalize on making everything happy and positive so they reflect well on the outcomes.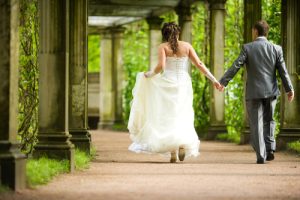 Good news is, there are new wedding photography trends that could help boost what you are up to. Technology has made the multi-billion wedding industry even bigger and that's primarily because couples get to enjoy not just the day itself but even the memories of such through what else but wedding photography.
Fun trends to try
As in any business, trends come and go. But, it is worth investing on the modern trends that is taking over the wedding photography scene for your own benefit and nothing else. As both couples and photographers started thinking out of the box, more fun can be had from the prenup shoot down to the actual wedding day.
* Classic Techniques Made Modern. Vintage styles kept coming back into the scene. That's because they never ceased to look delightful even many years or decades afterwards. The black-and-white theme is a classic trend delightfully used to add drama to every scene.
* Trash-that-Dress. With the amount of money that it is worth and the amount of effort poured in to make it look perfect come wedding day, the precious wedding dress is seen as a major draw for one of the hottest trends in wedding photography in Sydney. This is only suitable, of course, for couples who do not intend to make anything to do with the dress after the ceremony.
* Underwater Shots are Taking Over the Scene. With extraordinary wedding ideas come unusual themes for photography as well. Underwater shots are an example of what used to seem as an impossible trick.
* Lighting Magic. The use of both natural and artificial lights has gone popular since it provides a wonderful drama to every scene. Wedding photographers in Sydney found amazing results by simply using eclectic lighting fixtures, sunsets as backgrounds, and others.
* Panoramic Photography. This one sealed the deal for couples and photographers alike. The use of drone in wedding photography went enormously big. It does not add much to the cost but adds a whole lot on the effect. That's why wedding photographers love tinkering with what has been widely used as flying tripods.